Mini casette roller blind
The mini cassette roller blind is a practical development of the classic roller where the chain mechanism is concealed inside a cassette attached to the window frame. The roller fabric moves along the guides mounted to the sides of the window. When opening the blind, the fabric is rolled up inside the cassette mounted at the top or bottom of the window. Mini cassette roller blinds fit any interior style as they are decorative and blend into a harmonious combination with the windows and textile curtains. In addition to the wide range of fabrics, we supply roller cassettes in two different colours – white and brown. The cassette rollers can be mounted onall types of windows.
Structure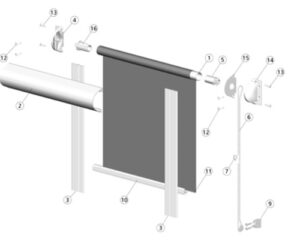 1. Roller tube
2. Cassette cover
3. Side bar
4. Cassette end cap
5. Chain mechanism
6. Control chain
7. Control chain locking
8. —
9. Sprocket (added where necessary)
10. Bottom bar
11. Fabric tape for bottom bar
12. Mounting screws
13. Cassette fixing screws
14. Cassette end cap
15. Chain guide
16. Idle roller
The cassette roller is operated with a chain mechanism. The length of the chain is selected according to the height of the blind. Pull one side of the chain loop to lift and the other to lower the blind. The upper chain stopper is always installed in the factory to avoid the fabric being rolled too far up. The lower chain stopped is always mounted during installation.
Maintenance
In home or office environments, the mechanism does not need specific maintenance over long periods. Mildly smudged or dusty fabric can be cleaned with a moist cloth while taking care not to crinkle the material.