Roller blinds are excellent for practical purposes. Nevertheless, carefully selected roller blinds may also serve as elegant interior design elements. As it is very easy to combine roller blinds with textile curtains, the latter could be used only for giving a spacious decorative look. Thus, the main purpose of roller blinds is to adjust lighting and create a private atmosphere.
The design of roller blinds is simple and laconic, emphasizing and highlighting the window frame. For up & down movement either a chain or spring mechanism is used, which can be combined with an electrically powered drive controlled by the "smart house system".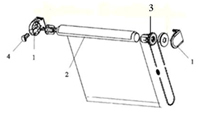 1. Bracket
     2. Roller tube
                   3. Chain mechanism
                  4. Idle roller lock pin
For roller blinds with a chain mechanism, pull one side of the chain loop to lift and the other to lower the blind.
Installation options
Roller blinds can be installed on the wall above the window opening or inside the opening.
Maintenance
In home or office environments, the mechanism does not need specific maintenance over long periods. Mildly smudged or dusty fabric can be cleaned with a moist cloth while taking care not to crinkle the material.