Paron sliding doors are ideal for those who value the cosy atmosphere created by natural wood look. For Paron sliding doors we use 92 mm wide vertical profiles coated with melamine. There are two types of handles available – rail and recessed. Top and bottom wheels are concealed inside horizontal profiles making them easy to use not only as wardrobe doors but also as room separators.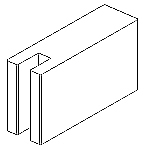 Further, top and bottom wheels are equipped with enclosed ball bearings and a spring mechanism which prevents derailing at the floor. The special heavy-duty bottom wheels of Paron doors allow manufacturing these heavy doors with a maximum width of 1200 mm and maximum height of 2750 mm
Range of framework colours: white, birch, venza oak, light walnut, dark walnut, white ash, wenge, anthracite oak.