About company
About company
Avaeksperdid – true experts in their field
Experienced professionals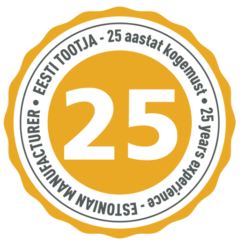 Our main strength is our experiences. And we do not call it being experienced when a person learns the work methods in a couple of months, we mean decades of work in the corresponding field. We are very proud of the fact that 80% of our employees are highly experienced experts, who know what to recommend to the client. Although Avaeksperdid was established ten years ago, we have among us people, who have worked in the manufacturing of window treatments for several decades.
In addition to the proficiency acquired in the course of work, we are continuously training our staff. Since Avaeksperdid is the Estonian dealership and installer of many solutions produced abroad, it is essential to keep ourselves informed of the new products as well as of the existing ones. Besides Estonia, training sessions take place in Finland, Sweden, the Netherlands and other places.
What is it that we do better than the competitors?
If we were to pick out the most important answer among the very many options, it would most likely be the flexible and competent approach to the customers that we have. When we first started out, we tried to design special solutions for all the customers. The same approach – as every client with their desires and possibilities is different – is characteristic of us still, even though the work volumes are something quite different than they were in the early years.
Another important advantage of Avaeksperdid is offering full solutions. It is possible to order all the imaginable window treatments from us. We visit the site, we take measurements, we manufacture the solutions and install them. If necessary, our designer can give advice on what kind of curtains or blinds could be suitable for the particular room.
Besides Estonia, we operate also abroad – around 30% of our production is exported and the corresponding proportion has increased every year. We think that we can eventually achieve a situation where we export over a half of our production.
Quality counts
Estonian consumers have become more demanding year-by-year – customers ask for quality and are willing to pay for it. True, in exports things are the opposite – the decisive factor is the price.
OÜ Avaeksperdid is a company established in 2005 owned 100% by shareholders based in Estonia. The team has more than 19 years of experience with window blinds.
Our main products:
Roller blinds (fabric, wood, bamboo)
Cassette roller blinds (fabric)
Vertical blinds (fabric, bamboo)
Bamboo and wooden blinds (roller and pleated blinds)
Venetian blinds (aluminium, wood)
Curtain hangers (tracks, rails and rods)
Aluminium security shutters
Awnings
Sun blinds
Sliding doors and wardrobe systems
Insect nets
Textile curtains
Infrared heaters
Panel curtains