The mini roller blind is an easy to install window blind. It is attached to the window or door frame with screws or alternatively with hooks (without drilling any holes). The blind can be moved up & down with a chain mechanism. The mini roller blind can be easily combined with textile curtains. In this case, the textile curtain is merely decorative whereas the roller is used to adjust light and provide privacy.
The mini roller blind can be installed on the wall above the window opening or on the window frame. The advantages of mounting the mini roller on the frame include small mechanism and easy installation. Mini rollers installed on the window frame do not obstruct opening the window and they won't hang loose – the fabric has a metal bottom bar which catches onto the magnets fitted on the bottom part of the window frame.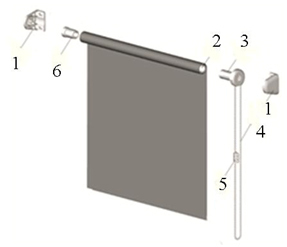 1. Bracket
2. Roller tube
3. Chain mechanism
4. Control chain
5. Control chain lock
6. Idle roller
For roller blinds with a chain mechanism, pull one side of the chain loop to lift and the other to lower the blind.