Avaeksperdid in the Tartu Fairs Centre
The second half of the year often means that curtains need to be changed. October is the perfect time for an interior design fair, to introduce choices for the winter season and set the trends for the new year. We welcome you on 12–14 October in the Tartu Fairs Centre, should you wish to discuss ideas, watch product shows or even get something suitable for your home.
We offer friendly discount prices for some window covers to mark the fair. From 12 October until the end of the month, we offer roller blinds, pleated blinds and venetian blinds at a 20% discount.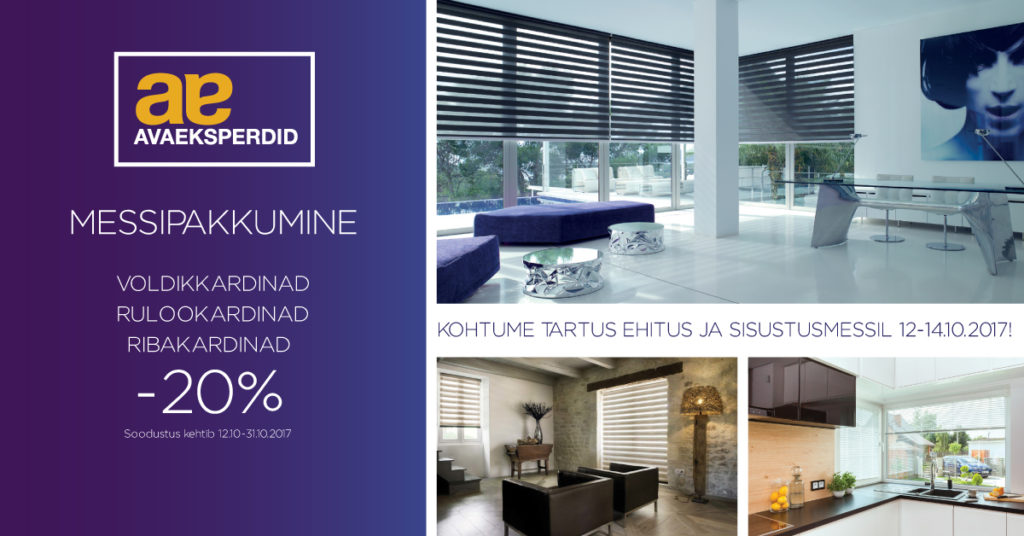 The opening hours and location of the fair
Thursday, 12 October, from 11:00 to 18:00
Friday, 13 October, from 10:00 to 18:00
Saturday, 14 October 10:00 to 16:00
AS Tartu Näitused Fairs Centre. Fr. R. Kreutzwaldi 60, Tartu.
More information: http://ehitusmessid.ee/
Back